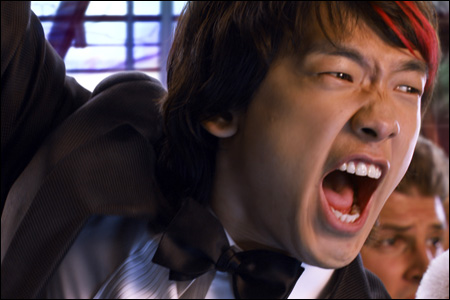 I got to catch a screening of
Speed Racer
last night. On IMAX, no less. Based on the classic Japanese anime series, the live-action Hollywood feature film version is everything the frenetic trailers promise—a crazy visual assault. At times, I felt in danger of suffering from a seizure. They were definitely going for that live-action cartoon aesthetic, where everything and everyone is highly stylized, colorful, and nonstop. Is it a good movie? Hardly. But I had an okay time.
As we all know, everybody's favorite Korean pop star
Rain
is in the movie as Taejo Togokhan. He actually has a pretty substantial role in the story, and speaks a fair amount of (heavily accented) English. Pretty good performance, but he's definitely not the hero.
Also in the movie with relatively significant parts are Hiroyuki Sanada as Mr. Musha and Chinese actress Yu Nan as Horuko. Also keep a sharp eye out for Joon Park, Karl Yune, Togo Igawa, Ramon Tikaram and Shaft. Oh, and some ninjas.