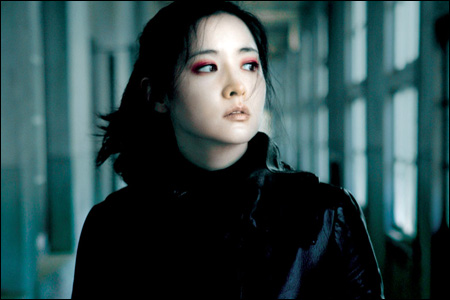 With th huge breakout success of
Slumdog Millionaire
, director Danny Boyle is crazy hot right now. Not that he wasn't already a great director -- I've been a fan for years. But I just came across this very interesting bit of news... Boyle recently revealed in an interview that he's been asked to direct a remake of Park Chan-wook's
Lady Vengeance
:
Danny Boyle Asked to Direct Lady Vengeance
.
Whaaaaaaa? I had heard a remake of the South Korean revenge thriller was in the works, with
Charlize Theron's
name thrown out as a possible star. But Danny Boyle as director... that would be really interesting. However, the interview doesn't give any indication whether or not he's actually going to do it. Just the offer.
If this remake has to happen (and in Hollywood, you can probably count on it sooner or later), I'd definitely prefer this combo (Boyle/Theron) over Steven Spielberg and Will Smith doing the
Oldboy remake
that was announced a few months back. In the meantime, I recommend checking out the cool, creepy
original Korean version
starring Lee Young-Ae.